Player of the Month-Cian Sahler
Player of the Month-Cian Sahler
Posted in: Success Stories
Dig In Baseball would like to congratulate 11U player, Cian Sahler, on being named Player of the Month for June!
Since joining Coach Frazier's 11U team this winter, Cian is batting .594 with 3 home runs, 35 RBIs and an impressive 1 strikeout, primarily from the lead-off spot.
"Cian is everything you want in a player. His business-like attitude to the way he practices and plays is what stands out most to me. He is always focused and willing to do whatever it takes to help the team win the game."
Cian bats and throws from the left side and plays a great centerfield and first base. He is always locked in to the game and loves to compete. He is a natural baseball player and plays the game at a pace and level well beyond his age.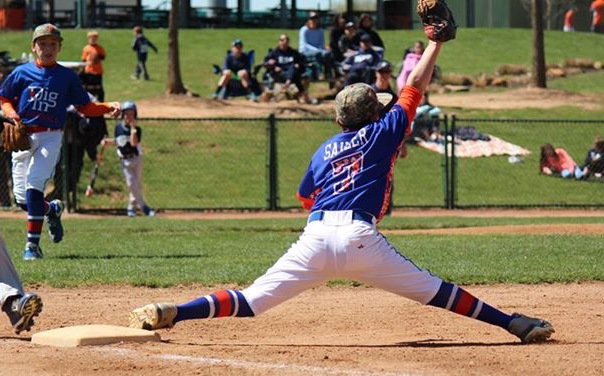 Cian and his family recently moved to the area after living out west and have found a home at Dig In.
"Dig In is an academy program that focuses intensely on the fundamentals of the game, and how to play it the right way – We love the indoor facility and the access to year-round training with experienced, talented, committed coaches."- Mark Sahler, Cian's dad
Coming from the west coast where year-round nice weather allows for year-round outside baseball training, Cian has had no problem adjusting to the commitment level it takes to play for Dig In. He loves the access to the indoor facility during the colder months and rainy days and is always up for any extra practices and workouts Coach Frazier might have for his 11U team.
Mark Sahler on Coach Will Frazier and Dig In:
"We feel very fortunate to be part of the Dig In organization. Will is exactly the type of coach and teacher that we were looking for when we first moved here last August. Will's knowledge of the game and his commitment to the boys is impressive. We really appreciate that every moment in a game, practice or lesson is an opportunity for teaching. Will connects very well with his players and always has important and meaningful lessons that connect the game to real life. Will also strikes a great balance between fun and business. Great to see these players laughing, smiling, learning and performing."
Cian is just as competitive in the classroom as he is on the baseball field. He is an Honor Roll Student . When he isn't playing baseball or doing his school work Cian is cheering on the Denver Broncos and his favorite MLB player Troy Tulowitzki and his Rockies.
We look forward to working with Cian for years to come and think his future in bright both on and off the field!